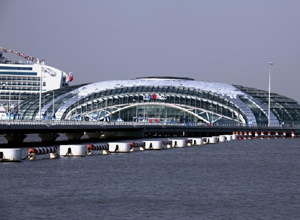 Wusongkou Internaitonal Cruise Terminal (Chinese: 吴淞口国际邮轮港) or Baoshan Cruise Terminal is located at Baoshan District in Shanghai, 24km from Shanghai city center. It shapes like an giant eyeball. It can accommodate two large passenger ships at the same time – one at 100,000 tons and the other at 200,000 tons. It provides anchorage for large international cruise liners (above 70,000 tons) on the Huangpu River at Wusong estuary, also for the temporarily docking for smaller cruise ships moving from Wusong estuary to the Shanghai Port International Cruise Terminal.
Transportation for Wusongkou Internaitonal Cruise Terminal
1) Subway: take subway line 3 – get off at the station of Baoyang – take taxi along the Baoyany Road to its eastern end
2) From Pudong Aorport (PVG), about 50km, taxi fare around RMB180
3) From Hongqiao Airport (SHA), about 36km, taxi fare around  RMB140
3) From Shanghai Hongqiao Railway Station, about 36km, taxi fare around RMB140
Got a question? Ask us here. We will reply to you within 12 hours.